About Us
We are a family of three humans, Rhonda, Tom and son Carter, and one very photogenic female Australian Shepherd, Woofington. Rhonda and Tom met at a woman's magazine where Rhonda was responsible for the text of a weekly column on Pets and Tom was responsible for photos.  The result was not just such classic stories as "Top Dog at the Waldorf" and "Does Your Pet's Dr. Do Little?", but puppy love for the pair, who have been married for 27 years.  Tom's a professional photographer and Carter an aspriring one, so when Woofington joined us 10 years ago, when Carter was 8, an illustrated life for her was a given.  Awhile ago, we started sending a picture of Woofington each day to family and friends.  She developed quite a following so we decided to share her looks, likes and dislikes with the public at large.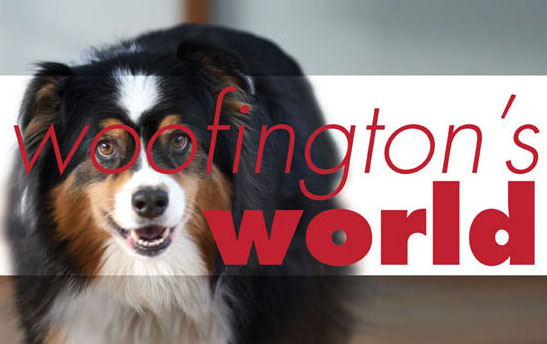 About You — Public Relations and Advertising:
Public Relations/Pet-related Product Companies: We are happy to consider products for mention on the blog, but we plan to cover only items that we like — items that are useful, healthful safe and/or fun.
Advertisers: We are new and our ad rates reflect that.  Call Tom at 203-834-0623 or email him at woof@woofingtonsworld.com and he'll work with you on a package that meets your needs.